Lean Product Development: A manager's guide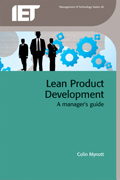 Author: Colin Mynott

Year: 2012

Format: Hardback

Product Code: PBMT0280

ISBN: 978-1-84919-671-0

Pagination: 248pp.
£48.10 Member price
£74.00

Full price
Description
Lean product development (LPD) is the application of lean principles to product development, aiming to develop new or improved products that are successful in the market. It is a cross-functional activity that seeks to uncover product knowledge hidden within the end-to-end production flow, typically in the hand-over points between functional units. LPD deals with the complete process from gathering and generating ideas, through assessing potential success, to developing concepts, evaluating them to create a best concept, detailing the product, testing/ developing it and handing over to manufacture. LPD is performed against a background of continuously assessing and reducing risk of market failure.
Lean Product Development: A manager's guide explains what needs to be done in order to successfully complete the complex task of developing products. It describes how you set up and run each project according to its particular needs and covers planning your profitability, cutting out waste, creating a market winner and how to control risk. It also contains some practical tools and techniques that help to cut time and cost.
Book readership
This book is essential reading for managers, project managers, engineers and developers in industry, and a handy primer for graduate and postgraduate engineering students.
Book contents
Wealth creation in the economy
Your company's fortunes
The product development process
Organising your company to increase profit
Product costing and company costs
Product strategy
Planning your product programme
The seven key project phases
Running and managing the programme
Tools and techniques