Buses, Bankers and the Beer of Revenge: an Eccentric Engineer collection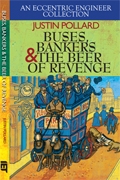 Author: Justin Pollard

Year: 2012

Format: Hardback

Product Code: PBSP0500

ISBN: 978-1-84919-581-2

Pagination: 128pp
£9.74 Member price
£14.99

Full price
Description
Since the autumn of 2007 Justin Pollard's Eccentric Engineer column in the award-winning E&T magazine has been campaigning to remind engineers of the extraordinary role that their subject has played in human history. This book gathers together three years of those musings, highlighting not simply the most famous engineering tales but the unusual, the erratic, and occasionally the patently insane. 
In its fifty stories it covers everything from aircraft carriers made of ice, to the origins of the omnibus. We'll toy with Roman turbines, and Greek computers, look at Renaissance hypertext and have arguments with Americans over the shape of our lightning conductors. We'll shake Scotland with earthquakes and build cars out of beans.  But most of all we'll celebrate the joys and perils of living in an engineered world.
About the author
Justin Pollard is a historian who has several jobs which together almost make up a career. He spends most his time writing books, magazine articles and television shows and advising on feature films. In print he has written a biography of Alfred the Great and a history of ancient Alexandria, whilst on television he is one of the writers of the BBC show QI. He has also worked on lots of different movies from Elizabeth and The Boy in the Striped Pyjamas to Pirates of the Caribbean. He has also written nine books, one of which has an exploding toilet in it.
Book review
Reviews for Justin's other books:
'A delicious historical treat' (Stephen Fry)
'Lucid and gripping' (Mail on Sunday)
'Pollard writes with a historian's accuracy and sensitivity to context' (Sunday Herald)
'Addictive' (Independent)
'Amusingly and energetically told…his best. Pollard has the QI knack of knowing what's funny or interesting' (Spectator)
Book readership
Engineers and those with an interest in how engineering has shaped our world.
Book contents
Foreword. Introduction. Prologue. Computers, Robots and Thinking Machines. Travel. Fighting. Blowing Things Up. Blood and Guts. Yum! Immortality. Oh dear! Epilogue