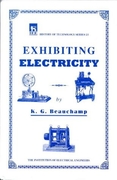 Author: K.G. Beauchamp

Year: 1997

Format: Hardback

Product Code: PBHT0210

ISBN: 978-0-85296-895-6

Pagination: 352pp.
£44.20 Member price
£68.00

Full price
Description
Scope: This unusual book traces the history of public and technical exhibitions, from their origins in the late 18th century to present day, and, particularly, how they have reflected the progress of science and technology (especially electrical technology). Not only does the author show how electrical innovation and manufacture have been presented to the wider public through this period, but he also shows how the exhibitions themselves have required technological advice. It is through this combination of roles that the importance of these exhibitions within scientific and technological advance can be understood.
Book readership
Historians of science and technology; Electrical engineers.
Book contents
Origins; Early technology exhibitions; Role of the mechanics' institutes; The Royal Society of Arts; The Great Exhibition of 1851; British exhibitions after 1851; International exhibitions abroad; Influence of electrical power generation; Specialist electrical exhibitions; Dominance of technology; Exhibitions between the wars; Electricity and the public; The modern era; Trade fairs; Epilogue; Index.