Engineering High Quality Medical Software: Regulations, standards, methodologies and tools for certification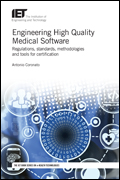 Book title: Engineering High Quality Medical Software: Regulations, standards, methodologies and tools for certification

Author: Antonio Coronato

Year: 2018

Format: Hardback

Product Code: PBHE0120

ISBN: 978-1-78561-248-0

Pagination: 296pp
£65.00 Member price
£100.00

Full price
Description
No longer confined to medical devices, medical software has become a pervasive technology giving healthcare operators access to clinical information stored in electronic health records and clinical decision support systems, supporting robot-assisted telesurgery, and providing the technology behind ambient assisted living. These systems and software must be designed, built and maintained according to strict regulations and standards to ensure that they are safe, reliable and secure.
Engineering High Quality Medical Software illustrates how to exploit techniques, methodologies, development processes and existing standards to realize high-confidence medical software. After an introductory survey of the topic the book covers global regulations and standards (including EU MDD 93/42/EEC, FDA Title 21 of US CFR, ISO 13485, ISO 14971, IEC 52304, IEEE 1012 and ISO/IEC 29119), verification and validation techniques and techniques, methodologies and engineering tasks for the development, configuration anf maintenance of medical software.
About the Author
Antonio Coronato is a researcher at the Institute for High Performance Computing and Networking at the National Research Council in Naples, Italy. He is Co-Editor in Chief of the Journal of Reliable Intelligent Environments and Technical Associate Editor of the IEEE Computer Communication Magazine. He is an ISTQB certified software tester.
IET Book Series on e-Health Technologies
Series Editor: Professor Joel P. C. Rodrigues, the National Institute of Telecommunications (Inatel), Brazil and Instituto de Telecomunicações, Portugal. Demographic shifts in populations trigger opportunities for innovations in e-Health, m-Health, precision and personalized medicine, robotics, sensing, the Internet of Things, cloud computing, Big Data, Software Defined Networks, and network function virtualization. The integration of these technologies is however associated with many technological, ethical, legal, and social issues. This new Book Series aims to disseminate recent advances in the e-Health Technology field to help improve healthcare and wellbeing.
Book readership
This book is essential reading for research-focused engineers, scientists and practitioners in academia, industry and medical settings who focus on healthcare software and e-health platform and technologies; designers, engineers and producers of medical software; small and medium enterprises involved in the production, integration or maintenance of medical software and platforms; healthcare and technology consultants and professionals active in the medical software field; institutional end users, university lecturers and students in the field; and stakeholders, standard and public authorities.
Book contents