Enhanced Living Environments: From models to technologies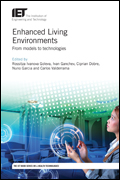 Book title: Enhanced Living Environments: From Models to Technologies

Author: Rossitza Ivanova Goleva, Ivan Ganchev, Ciprian Dobre, Nuno Garcia and Carlos Valderrama (Eds.)

Year: 2017

Format: Hardback

Product Code: PBHE0100

ISBN: 978-1-78561-211-4

Pagination: 408pp
£68.25 Member price
£105.00

Full price
Description
Enhanced living environments employ information and communications technologies to support true ambient assisted living for adults and people with disabilities. Infrastructure and services for autonomous living are provided via the seamless integration of ICT within homes and residences, and through new and innovative connected solutions, particularly in the area of pervasive and mobile systems.
This book provides an overview of today's architectures, techniques, protocols, components, and cloud-based solutions related to ambient assisted living and enhanced living environments. Topics covered include: an introduction to enhanced living environments; pervasive sensing for social connectedness; ethics in information and communication technologies; service scenarios in smart personal environments; technological support to stress level monitoring; big data systems to improve healthcare information searching over the internet; sensors for wireless body area networks; linear wireless sensor networks and protocols in next generation networks; model-compilation challenges for cyber-physical systems; health monitoring using WBAN; wearable health care; and intelligent systems for after-stroke home rehabilitation.
About the Editors
Rossitza Ivanova Goleva is Assistant Professor at the Department of Communication Networks at Technical University of Sofia, Bulgaria.
Ivan Ganchev is Associate Professor at the University of Plovdiv "Paisii Hilendarski", Bulgaria and Deputy Director of the Telecommunications Research Centre, University of Limerick, Ireland.
Ciprian Dobre is Professor of Computer Science at the University Politehnica of Bucharest, Romania.
Nuno Garcia is Assistant Professor at the Universidade da Beira Interior, Covilhã, Portugal, Researcher at the Instituto de Telecomunicações, Covilhã, Portugal, and Invited Associate Professor of the Universidade Lusófona de Humanidades e Tecnologias, Lisbon, Portugal.
Carlos Valderrama is a Professor and Director of the Electronics and Microelectronics Department at the Polytechnic Faculty at the University of Mons, Belgium.
Book readership
This work is essential reading for researchers, industry practitioners, engineers, and software developers working in AAL/ELE areas (health and medical informatics, information systems, computer science, computer engineering, mobile computing, applied informatics and intelligent processing systems). Also suitable for professionals using computational technologies for designing and developing AAL/ELE systems, integrating advanced functionality in various organisational settings within smart and assisted environments. In addition to that, the work will be of interest to researchers and specialists from other data and intensive processing fields (medical, biology, etc.), who use ELE and AAL technologies to design and develop health and social care systems.
Book contents