The Wiener‐Hopf Method in Electromagnetics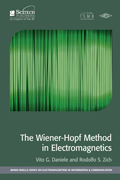 Author: Vito G. Daniele and Rodolfo S. Zich

Year: 2014

Format: Hardback

Product Code: SBEW5030

ISBN: 978-1-61353-001-6

Pagination: 384pp
£35.10 Member price
£54.00

Full price
Description
A function-theoretic method, The Wiener-Hopf technique has found applications in a variety of fields, most notably in analytical studies of diffraction and scattering of waves.
The Wiener‐Hopf Method in Electromagnetics is an advanced academic book which provides a rare comprehensive treatment of the Wiener-Hopf method. Using a high level mathematical approach to complex electromagnetics problems and applications, this new book illustrates the wide range of the latest applications, including an extensive outline of the most powerful analytical tool for the solution of diffraction problems.
This book is part of the Mario Boella Series on Electromagnetism in Information and Communication (ISMB). This series offers textbooks and monographs in all areas of radio science, with a special emphasis on the applications of electromagnetism to information and communication technologies.
About the Authors
Rodolfo S. Zich is President if the Instituto Superiore de Mario Boella (ISMB), the sponsoring organisation dedicated to electromagnetics research.
Book readership
This book is an invaluable compendium for scientists, engineers and applied mathematicians and will serve as a benchmark reference in the field of theoretical electromagnetism for the foreseeable future.
Book contents

The Wiener Hopf Contents (38 k)
Chapter 1- Forms of Wiener- Hopf (W-H) Equations
Chapter 2- The Exact Solution of Weiner- Hopf Equations
Chapter 3 – Functions Decomposition and Factorization
Chapter 4 – Exact Matrix Factorization
Chapter 5 - Approximate Solution: The Fredholm Factorization
Chapter 6 – Approximate Solutions: Some Particular Techniques
Chapter 7 - The Half-Plane Problem
Chapter 8 – Planar Discontinuities in Stratified Media
Chapter 9- Wiener-Hopf Analysis of Waveguide Discontinuation
Chapter 10 – Further Applications of W-H Techniques