Sevick's Transmission Line Transformers: Theory and Practice, 5th edition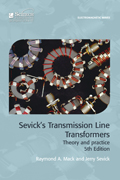 Author: Raymond Mack and Jerry Sevick

Year: 2014

Format: Hardback

Product Code: SBEW5130

ISBN: 978-1-89112-197-5

Pagination: 240pp.
£42.90 Member price
£66.00

Full price
Description
The long awaited revision of the classic book Transmission Line Transformers (2001) by Jerry Sevick has been updated and reorganised by Raymond Mack to provide communication engineers with a clear technical presentation of both the theory and practical applications of the transmission of radio communication.
Sevick's Transmission Line Transformers: Theory and Practice, 5th edition reviews the underlying principles that promote a better understanding of transmission line transformers. Featuring expanded coverage, this book provides substantial background theory and includes recent work on fractional ratio transformers and high power Balun designs.
Ideal for academics and practicing engineers, this edition is divided into two clear parts. Part one is a review of the theory and new concepts, including a discussion on the magnetic materials. Part two essentially focuses on the "practice" element of the book title and details the practical implications of transformers.
Key features include:
Completely reorganised and logically indexed
Clear graphical presentation of transmission lines
Increased amount of background theory
Divided into two main parts for easy reference
Covers recent work on fractional ratio transformers and high power Balun designs
About the Authors
Raymond A. Mack received his Electrical Engineering degree, with emphasis on biomedical engineering from Purdue University in 1975. His career in medical devices covered clinical chemistry analysers, heart pacemakers, electro-surgery, and infant warming therapy. From 1999 he worked in digital television for eight years and is now working in the oil and gas industry at National Oilwell Varco. Ray has worked for QEX magazine for 12 years as a technical proof-reader, editor, writes a column on software defined radio, and has authored Switching Power Supplies Demystified. Ray's interests include alternative energy using switching power design, microwave system design, software defined radio, and DSP.
Jerry Sevick, renowned for his research and publications related to short vertical antennas and transmission line transformers—passed away in 2009. Jerry was a graduate of Wayne State University and later graduated from Harvard University with a doctorate in Applied Physics. In 1956, he joined AT&T Bell Laboratories and supervised groups working in high-frequency transistor and integrated-circuit engineering; later, he served as Director of Technical Relations at the company. During his career, he undertook the characterisation and design of transformers for low impedance applications, resulting in this book, originally published in 1987.
Book review
This is a highly specialized monograph on the analysis and design of broadband transformers that are used in radio frequency range applications. There are basically two major types of transformers used for broadband impedance matching: magnetically coupled transformers and transmission line transformers. Mack (Demystifying Switching Power Supplies, 2005) and Sevick (deceased, 2009) focus on the latter, and the book is based on the early work of Sevick, who is renowned for his research related to short antennas and transmission line transformers. Following an introduction on broadband matching transformers, this updated, reorganized edition (4th ed., 2001; 1st ed., 1987) presents two major methods that are employed to achieve a 1:4 matching ratio. Variations of and improvements to these methods are presented in the following chapters. The book also covers cases where a 1:1 transformer, a multimatch transformer, and equal-delay transformers are required. Finally, the book presents some hints and comments on performing experimental analysis.
Summing Up: Recommended. Engineering collections serving upper-division undergraduates through professionals/practitioners.
B. Kordi, University of Manitoba
CHOICE Connect (January 2015)
Book readership
Sevick's Transmission Line Transformers: Theory and Practice, 5th edition is a classic practitioner reference, ideal for communication engineers, undergraduate/graduate level students, radio hobbyists and professionals alike.
Book contents
1 Transformer Basics 1
1.1 Introduction 1
1.2 The Basic Building Block 4
1.2.1 Phase Inverter 5
1.2.2 Balun 5
1.2.3 Delay Line 5
1.2.4 Bootstrap 6
1.3 Designing a Magnetic Transformer 6
References 8
2 Ferrite Materials 11
2.1 Introduction 11
2.2 Ferrite Physical Properties 12
2.3 Ferrite Permeability 13
2.4 Magnetic Losses 16
2.5 Ferrites and Frequency Response 18
2.6 Power Ratings 19
2.7 Suppliers of Materials 25
2.8 Additional Reading 25
References 25
3 Guanella Analysis 27
3.1 Introduction 27
3.2 Mid-Band Operation 27
3.3 Low Frequency Operation 30
3.4 Guanella Transformer Variations 32
4 Ruthroff Analysis 35
4.1 Introduction 35
4.2 Low Frequency Analyses of Ruthroff's 1:4 Transformers 39
4.3 High Frequency Characterization 41
Reference 42
5 Transmission Line Construction 43
5.1 Introduction 43
5.2 Commercial Transmission Lines 43
5.3 Custom Coaxial Transmission Lines 43
5.4 Custom Parallel Transmission Lines 45
5.5 Closely Wound Twin Lead 50
5.6 Three Conductor Lines 51
5.7 Custom Multiconductor Transmission Lines 54
5.8 Comparison of Twisted Pair and Twin Lead 55
5.9 Long Transmission Lines 58
5.10 Variable Characteristic Impedance Lines 58
References 59
6 1:4 Unun Transformer Designs 61
6.1 Introduction 61
6.2 Schematics and Pictorials 62
6.3 12.5:50 W Ununs 64
6.4 25:100, 50:200, and 75:300 W Ununs 69
7 Unun Transformer Designs with Impedance Ratios
Less Than 1:4 73
7.1 Introduction 73
7.2 1:1.5 Ununs 75
7.2.1 Tapped Bifilar Transformers 76
7.2.2 Quintufilar Transformers 79
7.3 1:2 Ununs 85
7.4 1:3 Ununs 96
8 Unun Transformer Designs with Impedance Ratios
Greater Than 1:4 99
8.1 Introduction 99
8.2 Guanella Transformers 100
8.2.1 5.56:50 W Ununs 102
8.2.2 50:300 W Ununs 103
8.2.3 50:450 Ununs 104
8.2.4 50:600 W Ununs 104
8.2.5 50:800 W Ununs 107
8.3 Ruthroff-Type Transformers 107
8.3.1 5.56:50 W Ununs 111
8.3.2 50:450 W Ununs 113
8.3.3 3.125:50 W Ununs 114
8.4 Ruthroff-Guanella Transformers 116
8.5 Coax Cable Transformers—Ruthroff Type 117
Reference 119
9 Baluns 121
9.1 Introduction 121
9.2 The 1:1 Balun 121
9.2.1 Rod versus Toroidal Baluns 126
9.2.2 Bifilar versus Trifilar Baluns 127
9.2.3 Air Core versus Ferrite Core Baluns 129
9.3 The 1:4 Balun 129
9.3.1 50:200 W Baluns 133
9.3.2 75:300 W Baluns 136
9.3.3 25:100 W Baluns 137
9.3.4 12.5:50 W Baluns 138
9.4 The 1:9 Balun 139
9.5 Baluns for Yagi, Quad and Rhombic Antennas 142
9.5.1 Yagi Beams 142
9.5.2 Quad Antennas 143
9.5.3 Rhombic Antennas 144
10 Multimatch Transformers 147
10.1 Introduction 147
10.2 Dual-Output Transformers 148
10.2.1 1:1.5 and 1.3 Ratios 148
10.2.2 1:2 and 1:4 Ratios 151
10.3 Parallel Transformers 153
10.4 Eight-Ratio Transformer 155
11 Equal Delay Transformers 157
11.1 Introduction 157
11.2 The Need for Fractional Ratio Transformers 157
11.3 The Equal Delay Transformer 158
11.4 Integer [n2] Ratio Equal Delay Transformers 160
11.5 Fractional [(n/m)2] Ratio Equal Delay Transformers 161
11.6 Unun versus Balun Equal Delay Transformers 162
11.7 Calculation of Impedance Transformation Ratios 163
11.8 Achievable Transformation Ratios 165
11.9 A 50–75 W Equal Delay Unun Example 168
11.10 Performance of the 50–75 W Transformer 170
References 172
12 Simple Test Equipment 173
12.1 Introduction 173
12.2 Transformer Impedance Measurement 173
12.3 Transmission Line Impedance Measurement 174
12.4 Home-Built Equipment 177
12.5 The Wheatstone Bridge 178
12.6 A High-Frequency Resistive Bridge 179
12.7 Signal Generators 182
12.8 Efficiency Measurements—The Soak Test 184
12.9 Characteristic Impedance Measurements 185
References 187
13 Construction Techniques 189
13.1 Introduction 189
13.2 Selecting Ferrites—Substitutions 189
13.3 Winding Rod Transformers 190
13.4 Winding Toroidal Transformers 191
13.5 Constructing Low Impedance Coax Cable 192
13.6 The Care and Handling of Ferrite Transformers 194
Appendix A Reprint of Guanella Article 195
Appendix B Some Broad-Band Transformers 201