Slotted Waveguide Array Antennas: Theory, analysis and design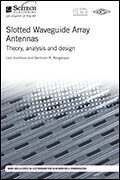 Book title: Slotted Waveguide Array Antennas: Theory, analysis and design

Author: Lars Josefsson and Sembiam R. Rengarajan

Year: 2018

Format: Hardback

Product Code: SBEW5170

ISBN: 978-1-61353-189-1

Pagination: 376pp
£81.25 Member price
£125.00

Full price
Description
Slotted waveguide antenna arrays are used in radar, communication and remote sensing systems for high frequencies. They have linear polarisation with low cross-polarisation and low losses but can also be designed for dual polarisations and phase steered beams.
Slotted Waveguide Array Antennas is the first comprehensive treatment of these antennas from an engineering perspective. It provides readers with a thorough foundation in applicable theories as well as hands-on instruction for practical analysis, design, manufacture and use of important types of waveguide slot arrays. It goes beyond some of the commonly discussed topics and ventures into areas that include higher order mode coupling and edge effects; performance optimisation in terms of bandwidth and pattern performance and manufacturing tolerances.
With specific examples of waveguide array designs, accompanied by detailed illustrations and antenna characteristics, the book is a must-have reference for engineers involved in antenna design, development and applications.
About the Author
For more than 40 years Lars Josesson was with Ericsson Microwave Systems AB in Mölndal, Sweden, where he became responsible for new antenna technology and systems, internal R&D projects and internal education relating to antennas. In 2003 he formed his own consulting company: Lars Microwave. In 2004 he received the Thulin Silver Medal from the Swedish Aeronautical Society for his contributions to several generations of airborne radar antenna developments. He is the author and co-author of more than 100 scientific publications on antenna technology.
Sembiam R. Rengarajan is a Professor at California State University, Northridge, USA. In addition to teaching electromagnetics and antenna courses, he has performed significant research in topics on applications of electromagnetics to antennas, scattering, and microwave components. Much of his research has dealt with slotted waveguide array antennas. He has published more than 240 journal articles and conference presentations, and serves as the Chair of USNC-URSI.
Book readership
This book is ideal for researchers, students and engineers involved in antenna design, development and applications.
Book contents