Spectrum and Network Measurements, 2nd Edition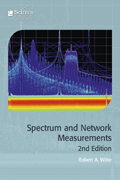 Book title: Spectrum and Network Measurements, 2nd Edition

Author: Robert A. Witte

Year: 2014

Format: Hardback

Product Code: SBEW5060

ISBN: 978-1-61353-014-6

Pagination: 350pp

Stock Status: Out of stock

The estimated arrival date is October 2014
Your account will only be charged when we ship your item.
£42.90 Member price
£66.00

Full price
Description
This updated edition of the industry's classic text combines the theory, practice and latest technology of spectrum and network measurements in electronic systems to offer a comprehensive and easy to understand treatment of frequency domain measurements.
This new edition of Spectrum and Network Measurements has been completely updated to take into account the latest technology, especially the shift from analog to digital in communication systems. An important new chapter on EMC measurements for electrostatic interference and discharge has also been added.
Using simplified block diagrams, this book offers a thorough coverage of critical concepts, such as Fourier analysis, transmission lines, intermodulation distortion, signal-to-noise ratio and S-parameters.
By picking up where the majority of electrical engineering programs stop, this new edition takes basic EE theory and translates it to the world of electronic measurements. This enables the reader to understand the basic theory of signals and systems, relate it to measured results, and apply it when creating new designs.

About the Author
Robert Witte has spent his entire career in the electronic measurement industry, working first for Hewlett-Packard, then Agilent Technologies and Keysight Technologies. He has contributed to the development of spectrum analysers, network analysers and digital oscilloscopes and has two patents relating to that work. He has worked in a broad collection of technologies, including analog/RF circuits, digital circuits and software design at a number of HP/Agilent locations.
Book review
"Spectrum and Network Measurements, by Robert Witte, is destined to become a classic work on the subject. If you are a new RF or EMI engineer, or are a product designer incorporating wireless into your designs, and you're not quite sure how to use or optimally set up a spectrum or network analyzer, then this is the book for you!" Kenneth Wyatt
Read the full book review here >
"The 2nd edition of Spectrum and Network Measurements brings Witte's classic text up to date for readers seeking to know about current measurement technologies, such as modular instruments, fast Fourier Transforms (FFTs), and how other instruments, such as oscilloscopes, fit into a measurement workbench with spectrum and network analyzers." Jack Browne
Read the full book review here >
Book readership
Spectrum and Network Measurements, 2nd Edition is ideal for electrical engineers who use spectrum or network analysers to characterise electronic signals or systems. Aimed at the recent graduate in the first instance, this book will also be a useful reference text for the more experienced engineer encountering spectrum and network measurements for the first time.
Book contents

Spectrum and Network Measurements Table of Contents (33 k)