Radio-Electronic Transmission Fundamentals, 2nd Edition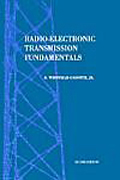 Author: B. Whitfield Griffith, Jr.

Year: 2000

Format: Hardback

Product Code: SBEW0260

ISBN: 978-1-88493-213-7

Pagination: 648 pp.

Stock Status: Out of stock

The estimated arrival date is June 2012
Your account will only be charged when we ship your item.
£39.00 Member price
£60.00

Full price
Description
This classic volume, one of the best textbooks of electromagnetic field theory and RF circuits, is reprinted here for the first time since its original publication in 1962. Hailed for its clear and concise explanation of antenna, transmission lines and RF networks from the perspective of electromagnetic field theory, this edition is highly recommended for graduate students and engineers who deal with RF energy. Short chapters make the text particularly useful for self-study and as a reference tool for those seeking fast and easy access to the subject of RF energy; a knowledge of calculus is not presupposed. SciTech Publishing also provides many other products related to Communication Systems Design.
Book contents
1. Electrical Networks 
2. Transmission Lines
3. Radio Antennas 
4. Radio Transmitters Answers to Problems Index
About the author
Whitt Griffith studied electrical engineering at the Massachusetts Institute of Technology. He worked with the Federal Communications Commission before joining the E. F. Johnson Company in Waseca, Minnesota. At E. F. Johnson, he developed components for the company's RF product line and designed phasing and coupling equipment for AM directional antenna systems. Mr. Griffith later joined Weldon and Carr, consulting engineers, in Dallas, Texas and was present there during the early years of the Continental Electronics Manufacturing Company. At Continental, he worked in research and development for their product line of high power transmitters and served as a resident expert on antenna systems worldwide. He retired in the late 1980s and currently resides in the Dallas area where he remains active on the amateur radio bands using call sign N5SU.