Practical Communication Theory, 2nd edition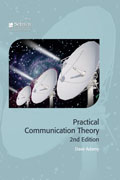 Author: Dave Adamy

Year: 2014

Format: Hardback

Product Code: SBEW5160

ISBN: 978-1-61353-186-0

Pagination: 176pp
£31.20 Member price
£48.00

Full price
Description
Practical Communication Theory, 2nd edition enables practicing engineers and technicians to quickly and easily generate the answers to real-world problems encountered in specifying, testing, and fielding any type of systems that involve radio propagation.
The second edition of this practical book deals with free space radio propagation and propagation near the ground and over the ridge lines and has been updated to include new material on radio propagation near the earth in communication bands, which explains how to use the slide rule scales for each of the appropriate propagation modes.
Additional highlights include;
an expanded section on dynamic range
additional material on knife-edge diffraction
extra propagation formulae and graphs in the appendices
bonus material on a special antenna and propagation slide rule, with unique scales, along with detailed explanations (and examples) of how to use it
This book includes a free special antenna and propagation slide rule, which will allow readers to make antenna parameter trade-offs and propagation loss calculations without touching a calculator or remembering a single formula.

Review:

"This book very nicely covers the design and analysis of real-life radio point-to-point communications in an easy to understand, but very practical (as promised by the title) way"
Joel R. Hallas, W1ZR for QST, ARRL (The National Association for Amateur Radio)

About the Author
Dave Adamy is an internationally recognised expert in electronic warfare and has 47 years' experience as a systems engineer and program technical director, developing EW systems from DC to Light, deployed on platforms from submarines to space, with specifications from QRC to high reliability. For the last 26 years, he has run his own company, performing studies for the US Government and defence contractors. He has also presented many courses in the US, Europe and Australia on Electronic Warfare and related subjects. He has published over 180 professional articles on Electronic Warfare, receiver system design and closely related subjects, including the popular EW101 column in the Journal of Electronic Defence. He has eleven books in print and is a past National President of the Association of Old Crows
Book readership
Practical Communication Theory, 2nd edition will appeal to a broad audience of practicing engineers and technicians in the field of radio wave communications. Those working in the wider fields of electronic warfare, radar, EM waves and telecommunications will also benefit from this book.
Book contents
1 Introduction 1
1.1 The Communication Link 1
1.2 A Few Important Definitions 3
1.3 Assumptions 4
1.4 Scope of the Book 4
Appendixes 4
2 About dB 7
2.1 Conversion to dB Form 8
2.2 Absolute Values in dB Form 9
2.3 dB Forms of Equations 9
2.4 Quick Conversions to dB Values 10
2.5 dB Bookkeeping Diagrams 12
3 Signal-to-Noise Ratio 15
3.1 Noise 15
3.2 Signal-to-Noise Ratio 16
3.3 Other Related Ratios 18
3.3.1 RF SNR 18
3.3.2 Signal-to-Quantization Ratio 18
3.4 Background Noise 19
4 The Communication Link 23
4.1 Information Signals 23
4.1.1 Audio Signals 23
4.1.2 Digital Data 24
4.1.3 Video Signals 25
4.2 Transmitters 27
4.2.1 Modulator 28
4.2.2 Power Amplifier 35
4.3 Receivers 36
4.3.1 Fixed Tuned Receiver 37
4.3.2 Channelized Receiver 37
4.3.3 Superheterodyne Receiver 38
4.3.4 Crystal Video Receiver 40
4.3.5 IFM Receiver 41
4.3.6 Compressive Receiver 41
4.3.7 Digital Receiver 42
4.3.8 Receiving Systems 43
4.4 Antennas 44
4.4.1 Antenna Gain Pattern 44
4.4.2 Polarization 47
4.4.3 Types of Antennas 49
4.5 Antenna Slide Rule 55
4.5.1 Antenna Scales 56
4.5.2 Finding Gain and Beamwidth 56
4.6 The Ether Waves 60
5 The Link Equation 61
5.1 Link Losses 63
5.1.1 Free Space 63
5.1.2 Two-Ray Loss 67
5.1.3 Fresnel Zone 70
5.1.4 Knife-Edge Diffraction 73
5.1.5 Atmospheric Loss 75
5.2 Signal Strength at Various Points in the Communication Link 76
5.2.1 Effective Radiated Power 77
5.2.2 Signal Arriving at Antenna 79
5.2.3 Received Power 80
5.3 Link Design Parameters 81
5.3.1 Required Margin 81
5.3.2 Required Sensitivity 82
5.3.3 Effective Range 83
5.3.4 Required Transmitter Power or Antenna Gain 86
5.4 Interfering Signals 88
5.5 Dynamic Range 91
6 Receiver Sensitivity and Dynamic Range 93
6.1 Sensitivity 93
6.1.1 Thermal Noise Level 94
6.1.2 Noise Figure 95
6.1.3 Required SNR 98
6.2 Digitized Analog Signals 99
6.2.1 Sampling Rate 100
6.2.2 Quantizing Levels 100
6.2.3 RF SNR 101
6.3 Dynamic Range 102
6.3.1 Analog versus Digital Dynamic Range 103
6.3.2 Analog Receiver Dynamic Range 104
6.3.3 Determining Dynamic Range 106
6.4 Digital Dynamic Range 107
7 Challenging Conditions 109
7.1 Rain and Fog Attenuation 109
7.2 Non–Line of Sight Transmission 111
7.2.1 Knife Edge Diffraction 111
7.2.2 Diffraction Loss over a Smooth Sphere 112
7.3 Doppler Effect 113
7.4 Antenna Misalignment 114