Microwave Semiconductor Engineering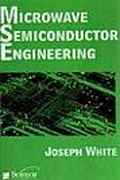 Author: Joseph F. White

Year: 1995

Format: Hardback

Product Code: SBEW0180

ISBN: 978-1-89112-164-7

Pagination: 558pp
£35.75 Member price
£55.00

Full price
Description
This unique volume clearly analyzes the complex field of semiconductor microwave engineering. Constants, formulas, derivations, and practical applications using diode control circuits are covered in an easy-to-follow format. This handbook even offers coverage of computer language related specifically to microwave device engineering. Microwave circuit engineers say this ready-to-use insight into FORTRAN IV programming is reason alone to have the book. Vital attention is given to microwave semiconductor diodes, and an extensive table of fundamental diode characteristics - not found even in diode handbooks - is provided for your convenience. 
You'll discover unique treatments, such as a thermal time constant analysis that quantifies the pulses heating effect of semiconductors, along with a method of estimating their reliability (long life expectancy) based on operating junction temperature. Practical examples of microwave network analysis and field analysis with actual device designs are demonstrated and examined.
Book contents
1. The PN Junction 
2. PIN Diodes and the Theory of Microwave Operation 
3. Practical PIN Diodes 
4. Binary State Transistor Drivers 
5. Fundamental Limits of Control Networks 
6. Mathematical Techniques and Computer Aided Design (CAD) 
7. Limiters and Duplexers 
8. Switches and Attenuators 
Answers 
Appendices
About the author
Joseph F. White received the Ph.D. from Rennsselaer Polytechnic Institute and is currently the publisher of APPLIED MICROWAVE & WIRELESS magazine, which he founded in 1989. He has been active in solid state microwave engineering for over 30 years. Dr. White is a frequent speaker at professional and technical meetings. 
A Fellow in the Institute of Electrical and Electronics Engineers (IEEE), he received the annual Application Award given by the Microwave Theory and Techniques Society of the IEEE and is a member of the Technical Paper Review Committee for its annual international symposium. He holds several patents and has designed phase shifter control circuits for the largest phased array systems in the free world.