Microwave and RF Design: A Systems Approach, 2nd Edition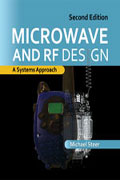 Author: Michael Steer

Year: 2013

Format: Hardback

Product Code: SBEW5050

ISBN: 978-1-61353-021-4

Pagination: 1194 pp.
£81.25 Member price
£125.00

Full price
Description
This second edition links two key themes; how system level decisions affect component and subsystem design and how the capabilities of technologies, components, and subsystems impact system design.
The book has been updated and considerably expanded with current wireless systems and sections on 4G and the technologies behind 5G cellular communications. A new chapter on RF modules has been introduced, as well as chapters on Mixer and Source Modules, Parallel Coupled Line Filters, Wideband Amplifiers, Power Amplifiers and Oscillators.
Based on feedback from the academic and professional communities, Dr Steer has made extensive improvements to this textbook including:
* Reorganised and updated material from the 1st Edition
* Six new chapters
* 10 real-world case studies of leading edge designs
* 45 worked examples
* 4G and the technologies behind 5G cellular communications
* 19 additional exercises per chapter
* Addition of answers to selected exercises
About the author
Michael Steer is currently the Lampe Distinguished Professor of Electrical and Computer Engineering at North Carolina State University (NCSU) and is a Fellow of the IEEE. He has authored more than 460 publications and 2 other books: Foundations of Interconnect and Microstrip Design, and Multifunctional Adaptive Microwave Circuits and Systems. He is a former Editor-In-Chief of the IEEE "Transactions on Microwave Theory and Techniques."
Book review
"This book is well organised with many materials that are useful for advanced engineering students as well as practicing hardware engineers. The system concept chapters help the reader understand the system requirements that help produce better microwave circuit designs. This book can be used as a comprehensive course in RF/microwaves as well as a reference book."
James Chu, Mathematics Department at Southern Polytechnic State University, Marietta, Georgia, United States (January 2015)
Book readership
This book would be of interest to senior-level microwave/RF engineering students. Practicing engineers will also find this book valuable as a reference tool in the field. Additionally, it can serve as a resource for those outside RF circuit engineering who need to understand how they can work with RF hardware engineers.
Book contents
Part I: RF Systems
Modulation, Transmitters and Receivers
Antennas and RF Link
Radio Frequency Systems
Part II: Transmission Lines
Transmission Lines
Planar Transmission Lines
Extraordinary Transmission Line Effects
Coupled Lines and Applications
Part III: MICROWAVE NETWORKS
Microwave Network Analysis
Graphical Microwave Network Analysis and Measurements
Passive Components
Impedance Matching
Part IV: MICROWAVE MODULES
RF and Microwave Modules
Mixer and Source Modules
Part V: FILTERS
Filters
Parallel Coupled Line Filters
Part VI: AMPLIFIERS AND OSCILLATORS
Linear Amplifiers
Wideband Amplifiers
Power Amplifiers
Oscillators