Higher Order Techniques in Computational Electromagnetics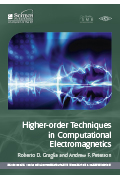 Book title: Higher Order Techniques in Computational Electromagnetics

Author: Roberto D. Graglia and Andrew F. Peterson

Year: 2015

Format: Hardback

Product Code: SBEW5070

ISBN: 978-1-61353-016-0

Pagination: 408pp
£33.80 Member price
£52.00

Full price
Description
Higher Order Techniques in Computational Electromagnetics explains "high-order" techniques that can significantly improve the accuracy, computational cost, and reliability of computational techniques for high-frequency electromagnetics, such as antennas, microwave devices and radar scattering applications.

The authors present high order basis function, explain their use, and illustrate their performance. The specific basis functions discussed were developed by the authors, and include scalar and vector functions for equations such as the vector Helmholtz equation and the electric field integral equation.
The authors first consider the approximation of scalar functions, and explore the error in some of those representations. Singular functions (those that are unbounded) are also considered, since these often arise in practical EM problems.

This book also discusses the approximation of vector functions, and summarize the various classes of vector basis functions used by the professional community. Following this, higher order basis functions are presented for the most common cell shapes used in finite element analysis procedures. Finally, considerations are made for some of the implementation details associated with the use of these functions for integral equation/method of moments formulations and differential equation/finite element method approaches.
About the Editors

Roberto D. Graglia is a Professor of Electrical Engineering at the Department of Electronics, Polytechnic of Turin. His research covers numerical methods for high- and low-frequency electromagnetics, theoretical and computational aspects of scattering and interactions with complex media, waveguides, antennas, electromagnetic compatibility, and low-frequency phenomena. He is a former President of the IEEE AP-S.
Andrew F. Peterson is a Professor at the School of Electrical and Computer Engineering at the Georgia Institute of Technology. Dr. Peterson conducts research in the development of computational techniques for electromagnetic scattering, microwave devices, and electronic packaging applications. He is a former President of the IEEE AP-S and Applied Computational Electromagnetics Society (ACES).
Book review
Higher-Order Techniques in Computational Electromagnetics caters to the needs of serious researchers, programmers, and scientists in the field of computational electromagnetics (CEM). The authors are Prof. Roberto D. Graglia of the Politecnico di Torino in Italy and Prof. Andrew F. Peterson of the Georgia Institute of Technology in Atlanta, who are both top-notch experts on this subject. This is the fifth title in the Mario Boella Series on Electromagnetism, published by a collaboration between the Institution of Engineering and Technology and SciTech Publishing. The series editor is Prof. Piergiorgio (George) L.E. Uslenghi, who contributed a foreword to the book. With almost 400 pages of encyclopedic information, this is a full-size book containing a lot of rigorous and useful information—it's not bedtime reading! It is a good reference book and will be kept on a conveniently accessible shelf of every active CEM researcher's bookcase.
Levent Gürel, the founder and chief executive officer of ABAKUS Computing Technologies and an adjunct professor with the University of Illinois at Urbana-Champaign, IEEE Antennas and Propagation Magazine, June 2016 Issue.
Book readership
Higher Order Techniques in Computational Electromagnetics is an introduction and reference for researchers, graduate students and practitioners in computational electromagnetics, as well as anyone who works with software packages for electromagnetics modelling
Book contents