HF Radio Systems and Circuits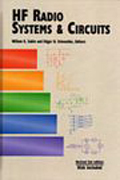 Author: William E. Sabin

Year: 1998

Format: Hardback

Product Code: SBEW0110

ISBN: 978-1-88493-204-5

Pagination: 672pp
£52.00 Member price
£80.00

Full price
Description
A comprehensive reference for the design of high frequency communications systems and equipment. This revised edition is loaded with practical data, much of which cannot be found in other reference books. Its approach to the subject follows the needs of an engineer from system definition and performance requirements down to the individual circuit elements that make up radio transmitters and receivers.
The accompanying disk contains updated software on filters, matching networks and receiver analysis.
Supplementary material files can be found on IET Digital Library.