HF Filter Design and Computer Simulation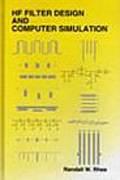 Author: Randall W. Rhea

Year: 1994

Format: Hardback

Product Code: SBEW0100

ISBN: 978-1-88493-225-0

Pagination: 448pp

Stock Status: Out of stock

The estimated arrival date is June 2012
Your account will only be charged when we ship your item.
£52.00 Member price
£80.00

Full price
Description
A book for engineers who design and build filters of all types, including lumped element, coaxial, helical, dielectric resonator, stripline and microstrip types. A thorough review of classic and modern filter design techniques, containing extensive practical design information of passband characteristics, topologies and transformations, component effects and matching. An excellent text for the design and construction of microstrip filters.
Book contents
1. Introduction 
2. Network Fundamentals 
3. Reactors and Resonators 
4. Transformations 
5. Filter Losses 
6. Computer-Aided Strategies 
7. Lowpass Structures 
8. Bandpass Structures 
9. Highpass Structures 
10. Bandstop Structures 
Appendix A PWB Manufacturing 
Appendix B List of Symbols Index
About the author
Randall Rhea was born June 10, 1947, in Findlay, Illinois. He has a BSEE degree from the University of Illinois (1969) and an MSE degree from Arizona State (1973). His Masters thesis was the individual construction and operation of earth station equipment which successfully received voice communications from Apollo 17 in lunar orbit. He worked at Boeing, Goodyear Aerospace and Scientific Atlanta where he last held the position of Principal Engineer. His engineering assignments included antennas, filters, amplifiers, oscillators, phase-locked loops, synthesizers and receivers for radar, wireless security, CATV, satcom, data, broadband network and instrumentation systems. 
Randy is the author of numerous journal and conference papers on antenna theory, amplifiers, computer-aided engineering and filter theory. He is the author of Oscillator Design and Computer Simulation, HF Filter Design and Computer Simulation, and three training course series available on CD-ROM, Filter Techniques Series, Practical RF Design Series, and High Frequency Oscillator Design, all published by Noble Publishing. He is also the author of a book-length tutorial written for Bell System engineers. 
He taught at DeKalb college and teaches workshops at technical meetings, universities and corporations. He is the lecturer in two video tape short courses on oscillator and filter design. In 1985 he founded Eagleware to develop engineering software. He is the author of four of the original Eagleware programs and technical manuals. Today, Eagleware is a leading provider of high-frequency design software for electrical engineers and has thousands of users worldwide. In 1994, he founded Noble Publishing.