The Finite-Difference Time-Domain Method in Electromagnetics with MATLAB® Simulations, 2nd Edition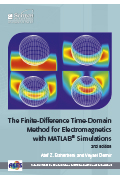 Book title: The Finite-Difference Time-Domain Method in Electromagnetics with MATLAB® Simulations, 2nd Edition

Author: Atef Elsherbeni & Veysel Demir

Year: 2015

Format: Hardback

Product Code: SBEW5140

ISBN: 978-1-61353-175-4

Pagination: 560pp
£60.45 Member price
£93.00

Full price
Description
An update of popular first edition of Finite-Difference Time-Domain Method in Electromagnetics with MATLAB® Simulations (2008), this book has been completely revised to incorporate advanced techniques and applications.
The Finite-Difference Time-Domain Method in Electromagnetics with MATLAB® Simulations, 2nd edition has been expanded to include 5 entirely new chapters and several modified sections to cover advanced topics including; Total Field/Scattered Field Formulation, Dispersive Material Modeling, Analysis of Periodic Structures, Nonuniform Grid and Graphics Processing Unit Acceleration of Finite-Difference Time-Domain Method.
This latest edition follows a step-by-step process that will allow readers to build competence and confidence in developing complete working codes for the design and analysis of various antennas and microwave devices. By presenting the fundamental techniques of the FDTD method at a graduate level, this book is able to take readers from a conceptual understanding to actual programme development.
The Finite-Difference Time-Domain Method in Electromagnetics with MATLAB® Simulations, 2nd edition also contains a number of useful features for readers including; full derivations for final equations, 3D illustrations to aid in visualization of field components and fully functional MATLAB® code examples.
Topics covered include:
the finite-difference approximation of the differential form of Maxwell's equations
the geometry construction in discrete space, including the treatment of the normal and tangential electric and magnetic field components at the boundaries between different media
the outer-boundary conditions treatment
the procedures for the appropriate selection of time and spatial increments
the proper selection of the source waveform
the correct parameters for the time-to-frequency-domain transformation
the simulation of thin wires
the representation of lumped passive and active elements in the FDTD simulation
the scattered versus total field formulations
the definition and formulation of near and far zone sources
the use of graphical processing units for accelerating the FDTD simulations.
This book is part of the ACES Series on Computational Electromagnetics and Engineering.
Supplementary material files can be found on IET Digital Library.


About the Authors
Atef Z. Elsherbeni is the Dobelman Distinguished Chair and Professor of Electrical Engineering at Colorado School of Mines. Over the last 28 years his research has focused on a number of topics including scattering and diffraction of EM waves by dielectric and metal objects, finite difference time domain analysis of antennas and microwave devices, interactions of electromagnetic waves with human body and RFID and sensor Integrated FRID systems. Dr. Elsherbeni is a Fellow of the IEEE and ACES, Editor-in-Chief for ACES Journal, and a past Associate Editor to the Radio Science Journal. He has co-authored 156 technical journal articles, 9 books, 28 book chapters, and contributed to over 370 professional presentations, offered 30 short courses and 34 invited seminars.
Dr. Veysel Demir is an associate professor at the Department of Electrical Engineering at Northern Illinois University. His main field of research is electromagnetics and microwaves, and he is especially experienced in applied computational electromagnetics. He heavily participated in the development of time domain and frequency domain numerical analysis tools for new applications and contributed to research on improving the accuracy and speed of algorithms being developed. He is experienced in designing RF/microwave circuits and antennas for the related technologies, and performing experimental characterizations of these devices.
Book readership
The Finite-Difference Time-Domain Method in Electromagnetics with MATLAB® Simulations, 2nd edition is a must-have reference for someone performing FDTD research and will be of interest to graduate students, researchers and practising engineering professionals who are using other electromagnetics tools and methods for performing independent numerical confirmation.
Book contents