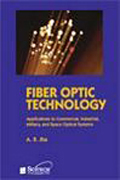 Book title: Fiber Optic Technology: applications to commercial industrial, military and space optical systems

Author: Asu Ram Jha

Year: 2005

Format: Hardback

Product Code: SBEW0050

ISBN: 978-1-88493-260-1

Pagination: 306pp

Stock Status: Out of stock

The estimated arrival date is June 2012
Your account will only be charged when we ship your item.
£35.75 Member price
£55.00

Full price
Description
This book offers comprehensive coverage of the optimum design of a wide range of FO systems. The author avoids complex mathematics and derivations, but he offers the equations necessary to eloquently describe FO components and systems. Readability is enhanced through excellent figures, diagrams and graphs. One of the more important features of Fiber Optic Technology is excellent coverage of a wide variety of applications including military and space, commercial and industrial systems, communications and telecommunications systems, medical and scientific applications, and industrial sensors.
About the author
Dr. A.R. Jha (Bsc.(Engg.), MS(Elec), MS(Mech.) and Ph.D.( Electronics)) has design, development and research experience of more than 35 years in the fields of radars, electronic warfare, lasers, phased array antennas, solid state mm-wave components,cellular/mobile/satellite communication, receivers, MEMS devices and IR sensors. The author has published more than 75 technical papers (including 8 invited papers) and authored 8 high-technology books and holds a US patent on mm-wave Terrestrial Communication Antenna.