EMI Troubleshooting Cookbook for Product Designers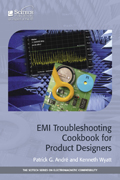 Author: Patrick G. André and Kenneth Wyatt

Year: 2014

Format: Hardback

Product Code: SBEW5100

ISBN: 978-1-61353-019-1

Pagination: 256pp
£42.90 Member price
£66.00

Full price
Description
"Great treatment of EMI troubleshooting. This book should be on the bookshelf of every EMI engineer, and anybody else responsible for EMI compliance." Daryl Gerke, PE, Kimmel Gerke Associates, Ltd. (EMC Consulting Engineers)

This hands-on trouble-shooting style book offers step-by-step 'recipes' to assist those who are trying to solve EMI problems, by detailing exactly what to do and how to do it.
EMI Troubleshooting Cookbook for Product Designers identifies why products fail to meet EMI/EMC regulatory standards and outlines techniques for tracking the noise source, and discovering the coupling mechanism, that is causing the undesired effects.
Using methods that require only a basic understanding of electromagnetic theory and a minimal background in EMI/EMC, this book offers a range of simple, easily- implemented examples of inexpensive troubleshooting tools that can be built by the engineer or technician.

About the Authors
Kenneth Wyatt has worked as a product development engineer for 10 years at various aerospace firms and has worked as an EMC engineer for Hewlett-Packard and Agilent Technologies in Colorado Springs. He is currently an independent consultant with Wyatt Technical Services.
Patrick G. André has worked in the military and aerospace environment for his entire career, and has worked with commercial electronics since 1995. Mr.Andre has a strong ability in the test, measurement, and troubleshooting of EMC and is the President of André Consulting, Incorporated.
Book readership
EMI Troubleshooting Cookbook for Product Designers is focused towards product design engineers and test technicians at both smaller and larger companies in the market segments including military/aerospace, satellite/wireless communications, commercial, medical and industrial control.
Book contents
1 Electromagnetic Fundamentals 1
1.0 Stop Testing: Troubleshooting Is Different 1
1.1 What Is an Electromagnetic Field? 1
1.2 What Is a Decibel? 2
1.3 EMI and EMC 5
1.4 Types of Interference 6
1.5 Differential-Mode and Common-Mode Currents 6
1.6 Time Domain and Frequency Domain 9
1.7 Relationship between Frequency, Wavelength, and Bandwidth 11
1.7.1 Frequency and Wavelength 11
1.7.2 Bandwidth 12
1.7.3 Resolution Bandwidth and Video Bandwidth 13
1.7.4 Filter Bandwidth 13
1.7.5 Broadband and Narrowband 14
1.8 Resistance, Capacitance, and Inductance (at High Frequency) 14
1.8.1 Resistors 14
1.8.2 Capacitors 15
1.8.3 Inductors 17
2 Electromagnetic Interference and Compatibility 21
2.1 How Energy Moves Around 21
2.2 Near Field and Far Field 22
2.3 Troubleshooting Philosophy 24
2.4 Essential Troubleshooting Concepts 27
2.4.1 Grounding/Bonding 27
2.4.2 Gaps in the Enclosure 27
2.4.3 Cable Bonding 27
2.4.4 Shielding 27
2.4.5 Filtering 28
2.5 Cabling and Interconnect 29
2.6 PC Board Considerations 31
References 36
3 Instrumentation 37
3.1 Spectrum Analyzers 37
3.2 EMI Receivers 38
3.3 Detectors 39
3.4 Narrowband versus Broadband Measurements 39
3.5 How Sweep Speeds Affect Measurements 41
3.6 Troubleshooting with Spectrum Analyzers 41
3.7 Oscilloscopes 42
3.8 Current Probes 44
3.9 Near-Field Probes 46
3.10 Antennas 48
4 Radiated Emissions 55
4.1 Introduction to Radiated Emissions 55
4.2 Radiated Emissions Checklist 55
4.3 Typical Failure Modes 56
4.4 Troubleshooting Emissions at the Test Lab 57
4.5 Troubleshooting at Your Facility 59
4.5.1 Clock Oscillators 61
4.5.2 Identification of Emissions 63
4.5.3 Power Line Emissions 63
4.5.4 Filters 64
4.5.5 Capacitors 64
4.5.6 Ferrite Chokes 64
4.5.7 Shields 65
4.6 Commercial Testing Issues 66
4.7 DIY Tricks and Low-Cost Tools 68
4.7.1 Near-Field Probes 68
4.7.2 Current Probes 70
4.7.3 Chassis Bond Measurement 74
4.7.4 Connector Bonding 74
4.8 Typical Fixes 74
4.8.1 Wires and Cables 76
References 79
5 Conducted Emissions 81
5.1 Introduction to Conducted Emissions 81
5.2 Conducted Emissions Checklist 81
5.3 Typical Failure Modes 82
5.4 Troubleshooting at the Test Lab 83
5.5 Troubleshooting at Your Facility 85
5.5.1 Circuits and Filters 85
5.6 Special Cases and Issues 87
5.7 DIY Tricks and Low-Cost Tools 88
5.8 Typical Fixes 91
6 Radiated Susceptibility 93
6.1 Introduction to Radiated Susceptibility 93
6.2 Radiated Susceptibility Checklist 93
6.3 Typical Failure Modes 94
6.4 Troubleshooting at the Test Lab 94
6.5 Troubleshooting at Your Facility 95
6.6 Special Cases and Issues 96
6.7 DIY Tricks and Low-Cost Tools 96
6.8 Typical Fixes 104
7 Conducted Susceptibility 107
7.1 Introduction to Conducted Susceptibility 107
7.2 Conducted Susceptibility Check List 107
7.3 Typical Failure Modes 108
7.4 Troubleshooting at the Test Lab 108
7.5 Troubleshooting at Your Facility 109
7.6 Special Cases and Issues 110
7.7 DIY Tricks and Low-Cost Tools 111
7.8 Typical Fixes 113
8 Electrically Fast Transient (EFT) 115
8.1 EFT Test 115
8.2 Electrically Fast Transient (EFT) Checklist 115
8.3 Typical Failure Modes 116
8.4 Troubleshooting at the Test Lab 117
8.5 Troubleshooting at Your Facility 118
8.6 Special Cases and Issues 119
8.7 DIY Tricks and Low-Cost Tools 120
8.8 Typical Fixes 122
Reference 124
9 Electrostatic Discharge (ESD) 125
9.1 Introduction to ESD 125
9.2 ESD Checklist 127
9.3 Typical Failure Modes 128
9.4 Troubleshooting at the Test Lab 128
9.5 Troubleshooting at Your Facility 129
9.6 Special Cases and Issues 131
9.7 DIY Tricks and Low-Cost Tools 132
9.8 Typical Fixes 135
Reference 137
10 Transient Suppression for Surge and Lightning Pulses 139
10.1 Surge and Lightning Pulses 139
10.2 Surge Checklist 142
10.3 Typical Failure Modes 142
10.4 Troubleshooting at the Test Lab 142
10.4.1 Surge versus EFT 143
10.5 Troubleshooting at Your Facility 144
10.6 Special Cases and Issues 144
10.7 DIY Tricks and Low-Cost Tools 144
10.8 Typical Fixes 145
10.9 How to Choose the Proper TVS Diode Rating 145
11 Other Specific EMI Issues 151
11.1 Intentional Radiators and Wireless 151
11.2 Medical Products 152
11.3 Large or Floor-Standing Systems 153
11.4 Magnetic Field Issues 153
11.5 Automotive 154
11.6 Switched-Mode Power Supplies 155
11.7 LCD Displays 158
References 159