EMC Pocket Guide: Key EMC Facts, Equations and Data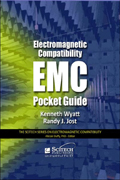 Author: Kenneth Wyatt & Randy J. Jost

Year: 2013

Format: Wire bound

Product Code: SBEW5190

ISBN: 978-1-61353-191-4

Pagination: 60 pp.
£9.75 Member price
£15.00

Full price
Description
Every electric product designed and manufactured worldwide must meet electromagnetic compatibility (EMC) regulations. Therefore if you are a working engineer or technician, this pocket guide is the first place to look while designing for EMC.
Addressing the most common reasons for compliance failure, EMC Pocket Guide: Key EMC Facts, Equations and Data, is both concise and easy to use. By referring to this guide, the reader can access the answers to key EMC issues quickly and efficiently.
The authors use the Fourier analysis as a key tool in understanding the signals that are encountered in EMC problems and solution.
Topics covered include:
Radiated emissions (RE)
Frequency versus Time Domain
Common PC Board Issues
Effects of ESD / Preventing ESD Problems
Common Basic EMC Standards
Ohms Law (formula wheel)
Common symbols
About the author
Kenneth Wyatt has worked as an EMC engineer for over 20 years for Hewlett-Packard and Agilent Technologies in Colorado Springs. A prolific author and presenter, he has generated extensive content on: design of comb generators; DIY near-field and current probes; and the EMC design of products.
Randy J. Jost has worked at Wright-Patterson AFB, SRI, International in Rosslyn, Virginia and Ball Aerospace and Technologies Incorporated. His areas of research interests include radar and microwave engineering, remote sensing, electromagnetic compatibility, computational electromagnetics, and electromagnetic measurement range characterization.
Book readership
This pocket guide would be ideal for use by electronic equipment/system designers, printed circuit board designers, power distribution engineers, project managers, EMC consultants, and students/lecturers/researchers in electrical engineering.
Book contents
EMC Fundamentals
EMC Design
EMC Measurements
EMC Standards
Using Decibels
Frequency vs. Wavelength
Commonly Used Equations
Miscellaneous Information
Useful Software