Dielectric Resonators, 2nd Edition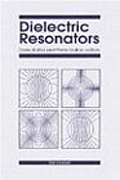 Author: Darko Kajfez

Year: 1998

Format: Hardback

Product Code: SBEW0010

ISBN: 978-1-88493-205-2

Pagination: 576pp

Stock Status: Out of stock

The estimated arrival date is April 2014
Your account will only be charged when we ship your item.
£40.30 Member price
£62.00

Full price
Description
This is the definite reference text on dielectric resonators used in filters and oscillators. This second edition includes corrections and updates, a new chapter on how to use the program included. Sections are devoted to properties of materials, coupling techniques and filter and oscillator design using dielectric resonators. Programs implement the models presented in the book and identify the frequencies of all the modes.
Book contents
1. Introduction 
2. Microwave Resonators 
3. Dielectric ROD Wave Guides 
4. Simple Models 
5. Rigorous Analysis Methods 
6. Integral Equation Techniques 
7. Material Properties 
8. Coupling 
9. Filters 
10. Oscillators 
11. Software 
References 
Index