Developments in Antenna Analysis and Design: 2 Volume Set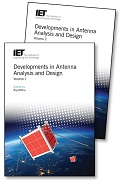 Author: Raj Mittra (ed.)

Year: 2018

Format: Hardback

Product Code: SBEW543X

ISBN: 978-1-78561-892-5

Pagination: c.876pp
£130.00 Member price
£200.00

Full price
Description
The two volumes represent a unique combination of topics pertaining to antenna design and analysis, not found elsewhere.
Developments in Antenna Analysis and Design: Volume 1 Covers:
The theory of characteristic modes (TCM) and characteristic bases.
Wideband antenna element designs; MIMO antennas; antennas for wireless communication.
Reconfigurable antennas employing microfluidics; flexible and body-worn antennas; and antennas using meta–atoms and artificially-engineered materials, or metamaterials (MTMs).

Developments in Antenna Analysis and Design: Volume 2 Covers:
Graphene-based antennas; millimeter-wave antennas; terahertz antennas; optical antennas and fundamental bounds of antennas
Fast and numerically efficient techniques for analyzing antennas and statistical analysis of antennas.
Ultra-wideband arrays; reflectarrays; and antennas for small satellites, viz., CubeSats.
About the Editor
Raj Mittra is a Life Fellow of the IEEE, a Past-President of AP-S, and has served as the Editor of Transactions of the Antennas and Propagation Society. He won the Guggenheim Fellowship Award in 1965, the IEEE Centennial Medal in 1984, the IEEE Millennium medal in 2000, the IEEE/AP-S Distinguished Achievement Award in 2002, the AP-S Chen-To Tai Distinguished Educator Award in 2004 and the IEEE Electromagnetics Award in 2006. He has published over 970 journal and symposium papers and more than 40 books or book chapters on various topics related to electromagnetics, antennas, microwaves and electronic packaging. He also has three patents on communication antennas to his credit.
Book readership
It is an essential read for the antenna community including designers, students, researchers, faculty engaged in teaching and research of antennas, and the users as well as decision makers.
Book contents
This information is provisional and will be updated prior to publication
Volume 1:
Chapter 1: Applications of the Characteristic Mode Theory - Ting-Yen Shih, Nader Behdad
Chapter 2: Design of Antennas Mounted on Complex Platforms using the Characteristic Mode (CM) and Characteristic Basis (CB) Function Methods - Raj Mittra, Ashwani Kumar, Chao Li
Chapter 3: Wideband L-probe patch antenna - Hau Wah Lai, Kwai Man LUK
Chapter 4: MMO Antenna Systems - Mohammad S. Sharawi
Chapter 5: Reconfigurable Leaky-Wave Antennas - Y. Jay Guo, PDebabrata K. Karmokar, Trevor S. Bird
Chapter 6: Reconfigurable High Gain Antennas for Wireless Communications - Y. Jay Guo, Peiyuan Qin, Raj Mittra
Chapter 7: Microfluidically Reconfigurable Antennas - Gokhan Mumcu
Chapter 8: Flexible and wearable antennas - Ahmed Kishk, Muhammad. M. Tahseen
Chapter 9: Wearable Technology and Mobile Platform for Wearable Antennas for Human Health Monitoring - Vijay K. Varadan, Pratyush Rai, Se Chang Oh, Prashanth Shyam Kumar, Mouli Ramasamy, Robert E. Harbaugh
Chapter 10: Meta-Atoms and Artificially Engineered Materials for Antenna Applications- Ravi Kumar Arya, Shiyu Zhang, Shaileshchandra Pandey¸ Ashwani Kumar, Y. Vardaxoglou, William Whittow, Raj Mittra
Chapter 11: Microwave Antennas Based on Metamaterials and Metasurfaces - Wen Xuan Tang, Tie Jun Cui
Chapter 12: Metamaterial-based Zero-phase-shift-line Loop Antennas - Zhi Ning Chen, Dr Qing Xianming, Prof. Shi Jin, Yunjia Zeng
Volume 2:
Chapter 1: Terahertz antennas, metasurfaces and planar devices using graphene- Michele Tamagnone, Santiago Capdevila Cascante, Juan R. Mosig
Chapter 2: Millimeter-Waves Antennas Using Printed-Circuit-Board and Plated-Through-Hole Technologies.- Kung Bo Ng, Dian Wang, Chi Hou Chan
Chapter 3: THz Photoconductive Antennas- Hao Xin, Zhang Jitao, Mingguang Tuo
Chapter 4: Optical Antennas - Chengjun Zou, Withawat Withayachumnankul, Isabelle Staude, Christophe Fumeaux
Chapter 5: Fundamental bounds and optimization of small antennas - Mats Gustaffson, Marius Cismasu, Doruk Tayli
Chapter 6: Fast Analysis of Deeply Integrated Active Antenna Systems - Rob Maaskant
Chapter 7: Numerically Efficient Methods for Electromagnetic Modeling of Antenna Radiation and Scattering Problems - Yang Su, Raj Mittra
Chapter 8: Stastistical Electromagnetics for Antennas - Hulusi Acikgoz, Ravi Kumar Arya, Joe Wiart, Raj Mittra
Chapter 9: Ultra-Wideband Arrays - John L. Volakis, Markus H. Novak
Chapter 10: Reflectarray Antennas - Jose A. Encinar, Eduardo Carrasco
Chapter 11: Novel Antenna Concepts and Developments for
CubeSats - Y. Rahmat-Samii, Vignesh Manohar, Joshua M. Kovitz