Advances in Planar Filters Design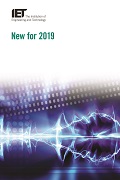 Author: Prof. Jiasheng Hong (ed.)

Year: 2019

Format: Hardback

Product Code: SBEW5350

ISBN: 978-1-78561-589-4

Pagination: c.300pp
£81.25 Member price
£125.00

Full price
Description
Microwave filters are the basic building blocks of communication systems. These filters, having reliable and scalable filter topologies with and without tunable properties, are capable of controlling different frequency bands as well as their fractional bandwidth to meet different system needs. There have been significant advances in the synthesis and physical realisation of microwave filter networks, and the design and applications for communication systems.
This edited book presents recent advances in planar filter design. It covers a wide range of different design types, technologies and applications for wireless, microwave, communications and radar systems.
About the Editor
Jiasheng (Jason) Hong is a Professor at Heriot-Watt University, Edinburgh, U.K., leading a team researching advanced RF/microwave device technologies. He has authored and co-authored over 200 journal and conference papers, and has published two books, in this field.
He is a Fellow of IEEE, a member of the IEEE MTT Technical Committees of Filters and Passive Components and Microwave Superconductivity, the Subject Editor (Microwave) for Electronics Letters, an Associate Editor of IET Microwaves, Antennas & Propagation and International Journal of RF and Microwave Computer Aided Engineering. He was also a past Associate Editor of IEEE Transactions on Microwave Theory and Techniques.
Book readership
A valuable reference for R&D engineers, professionals, specialists, research students and academic working on the topic of RF/microwave filters and related system applications.
Book contents
This information is provisional and will be updated prior to publication
Chapter 1: Introduction - Jiasheng Hong
Chapter 2: Planar Millimetre-wave and Terahertz Filters - Zhang-Cheng Hao
Chapter 3: Planar Coaxial SIW Resonator Filters - Stefano Sirci, Jorge D. Martinez, Miguel Angel Sanchez-Soriano, Vicente E. Boria
Chapter 4: Planar Lossy Filters for Satellite Transponders - Stéphane Bila, Ahmed Basti, Aurélien Périgaud, Serge Verdeyme, Laetitia Estagerie, Ludovic Carpentier, Hervé Leblond
Chapter 5: Microstrip Extracted-Pole Lossy Filters - Zhou Zhou, Jiasheng Hong
Chapter 6: Planar Reflectionless Filters - Matthew A. Morgan
Chapter 7: Absorptive Planar Bandstop Filters - Yo-Shen Lin, Jhih-Ying Shao
Chapter 8: Acoustic-Wave-Lumped-Element-Resonator-Based Bandpass Filters - Dimitra Psychogiou, Roberto Gomez-Garcia
Chapter 9: Tunable and Reconfigurable SIW Filters - Juseop Lee
Chapter 10: Superconducting Dual-Band Filters - Haiwen Liu, Baoping Ren
Chapter 11: Balun Bandpass Filters - Jianpeng Wang, Feng Huang, Xuedao Wang
Chapter 12: Millimetre wave SIW diplexer with relaxed fabrication tolerances - J. Ross Aitken, Jiasheng Hong