Sensors, Actuators, and Their Interfaces: A Multidisciplinary Introduction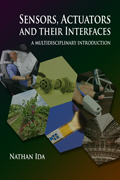 Author: Nathan Ida

Year: 2013

Format: Hardback

Product Code: SBCS5020

ISBN: 978-1-61353-006-1

Pagination: 784 pp.
£61.10 Member price
£94.00

Full price
Description
Sensors, Actuators, and Their Interfaces: A Multidisciplinary Introduction has been written based on the theory that a system is made of three components: Inputs (viewed as sensors), Outputs (viewed as actuators) and Processor (the unit to which the inputs and outputs are connected and performs all, or most tasks needed to interface them).
The approach to sensing taken looks at sensors and actuators based on the broad area of detection. This has the advantage that in a particular class of sensors only one or a few related physical principles are used, simplifying the understanding of the theory behind sensing and actuation. Important coverage is given to interfacing (the processes and mechanisms between the sensor and actuator) that make a system work reliably and accurately.
Presented with clear explanations, examples and diagrams, this book is ideal for course study, training and self-study in the field of systems engineering.
About the author
Nathan Ida is the Distinguished Professor of Electrical and Computer Engineering at the University of Akron. He is the author of five previous books in the area of Electromagnetics and over 250 journal and conference papers. A Fellow of the IEEE and the American Society for non-destructive testing, he is active in numerous conferences and symposia that emphasize interdisciplinary research and practical applications.
Book readership
Students and practitioners concerned with systems engineering in a broad variety of fields, especially those that depend on sensors for detecting pre-determined conditions.
Book contents
1 Introduction
1.1 Introduction
1.2 A Short Historical Note
1.3 Definitions
1.4 Classification of Sensors and Actuators
1.5 General Requirements for Interfacing
1.6 Units
1.7 Problems
2 Performance Characteristics of Sensors and Actuators
2.1 Introduction
2.2 Input and Output Characteristics
2.3 Problems
3 Temperature Sensors and Thermal Actuators
3.1 Introduction
3.2 Thermoresistive Sensors: Thermistors, Resistance Temperature Sensors, and Silicon Resistive Sensors
3.3 Thermoelectric Sensors
3.4 p-n Junction Temperature Sensors
3.5 Other Temperature Sensors
3.6 Problems
4 Optical Sensors and Actuators
4.1 Introduction
4.2 Optical Units
4.3 Materials
4.4 Effects of Optical Radiation
4.5 Quantum-Based Optical Sensors
4.6 Photoelectric Sensors
4.7 Coupled Charge (CCD) Sensors and Detectors
4.8 Thermal-Based Optical Sensors
4.9 Active Far Infrared (AFIR) Sensors
4.10 Optical Actuators
4.11 Problems
5 Electric and Magnetic Sensors and Actuators
5.1 Introduction
5.2 Units
5.3 The Electric Field: Capacitive Sensors and Actuators
5.4 Magnetic Fields: Sensors and Actuators
5.5 Magnetohydrodynamic (MHD) Sensors and Actuators
5.6 Magnetoresistance and Magnetoresistive Sensors
5.7 Magnetostrictive Sensors and Actuators
5.8 Magnetometers
5.9 Magnetic Actuators
5.10 Voltage and Current Sensors
5.11 Problems
6 Mechanical Sensors and Actuators
6.1 Introduction
6.2 Some Definitions and Units
6.3 Force Sensors
6.4 Accelerometers
6.5 Pressure Sensors
6.6 Velocity Sensing
6.7 Inertial Sensors: Gyroscopes
6.8 Problems
7 Acoustic Sensors and Actuators
7.1 Introduction
7.2 Units and Definitions
7.3 Elastic Waves and Their Properties
7.4 Microphones
7.5 The Piezoelectric Effect
7.6 Acoustic Actuators
7.7 Ultrasonic Sensors and Actuators: Transducers
7.8 Piezoelectric Actuators
7.9 Piezoelectric Resonators and SAW Devices
7.10 Problems
8 Chemical Sensor and Actuators
8.1 Introduction
8.2 Chemical Units
8.3 Electrochemical Sensors
8.4 Potentiometric Sensors
8.5 Thermochemical Sensors
8.6 Optical Chemical Sensors
8.7 Mass Sensors
8.8 Humidity and Moisture Sensors
8.9 Chemical Actuation
8.10 Problems
9 Radiation Sensors and Actuators
9.1 Introduction
9.2 Units of Radiation
9.3 Radiation Sensors
9.4 Microwave Radiation 474
9.5 Antennas as Sensors and Actuators 487
9.6 Problems
10 MEMS and Smart Sensors
10.1 Introduction
10.2 Production of MEMS
10.3 MEMS Sensors and Actuators
10.4 Smart Sensors and Actuators
10.5 Sensor Networks
10.6 Problems
11 Interfacing Methods and Circuits
11.1 Introduction
11.2 Amplifiers
11.3 Power Amplifiers
11.4 Digital Circuits
11.5 A/D and D/A Converters
11.6 Bridge Circuits
11.7 Data Transmission
11.8 Excitation Methods and Circuits
11.9 Noise and Interference
11.10 Problems
12 Interfacing to Microprocessors
12.1 Introduction
12.2 The Microprocessor as a General Purpose Controller
12.3 General Requirements for Interfacing Sensors and Actuators
12.4 Errors
12.5 Problems
Answers to Problems
Appendix A
Appendix B
Appendix C