Practical Robotics and Mechatronics: Marine, Space and Medical Applications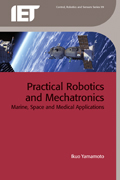 Book title: Practical Robotics and Mechatronics: Marine, Space and Medical Applications

Author: Professor Ikuo Yamamoto

Year: 2016

Format: Hardback

Product Code: PBCE0990

ISBN: 978-1-84919-968-1

Pagination: 168pp
£65.00 Member price
£100.00

Full price
Description
Practical Robotics and Mechatronics: Marine, Space and Medical Applications provides an essential introduction on how to successfully create practical robotics and mechatronics. It is based on the author's 30 years of experience of robotics development in Mitsubishi Heavy Industries, Ltd., JAMSTEC, and Nagasaki University, and contains many examples of real-world robots from new underwater vehicles, ships, robotic fish and unmanned aviation robotics, to space robotics, and medical robotics.
Topics covered include;
importance of robotics and mechatronics
creating practical robotics and mechatronics
basic system design procedure
dynamics and control
advances in robotics and mechatronics

About the Author
Ikuo Yamamoto has developed many world-class practical examples of robotics and mechatronics during his 30 years of experience as an engineer and a professor. The author's experience comprises of working with Mitsubishi Heavy Industries Ltd. (20 years), JAMSTEC (3 years), and as a Professor at Kyushu, Kitakyushu, and Nagasaki University (10 years). He was leader of AUV "Urashima", which established the world record of 317km for autonomous cruising; developed "Kaiko", which was crowned champion remotely operated vehicle at the Techno Ocean World convention 2012; and his robotic fish 'swam' in the International Space Station in 2009. Most of the robotics and mechatronics developed continue to be used safely in real-world environments.
Book readership
This book is an essential text for researchers in robotics and mechatronics in academia and industry; advanced students in electronic engineering with a focus on robotics, mechatronics or control.
Book contents