Open Resonator Microwave Sensor Systems for Industrial Gauging: A practical design approach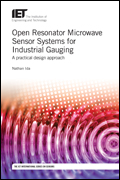 Book title: Open Resonator Microwave Sensor Systems for Industrial Gauging: A practical design approach

Author: Nathan Ida

Year: 2018

Format: Hardback

Product Code: PBCE1030

ISBN: 978-1-78561-140-7

Pagination: 416pp
£81.25 Member price
£125.00

Full price
Description
Open resonator microwave sensors allow accurate sensing, monitoring and measurement of properties such as dimension and moisture content in materials including dielectrics, rubber, polymers, paper, fabrics and wood veneers. This book presents a coherent and entirely practical approach to the design and use of systems based on these sensors in industrial environments, showing how they can provide meaningful, accurate and industrially-viable methods of gauging.
Starting with an introduction to the underlying theory, the book proceeds through the entire design process, including simulation, experimentation, prototyping and testing of a complete system. It takes the reader through the development of a particular sensor, stressing the parameters that should be optimized and emphasizing practical aspects of a sensor and of its use. Two extended application case studies on the use of these systems for rubber thickness and fabric coating monitoring are included.
About the Author
Nathan Ida is Distinguished Professor of Electrical and Computer Engineering at the University of Akron USA. He is the author of five previous books in the area of Electromagnetics and over 250 journal and conference papers. He is a Fellow of the IEEE, IET, the Applied Computational Electromagnetics Society and the American Society for Nondestructive Testing. He is active in numerous conferences and symposia that emphasize interdisciplinary research and practical applications.
Book readership
Ideal for design engineers in the rubber, paper, fabrics and wood industries as well as production engineers and managers in the above industries. Also it is highly suited for academics in electromagnetics, microwave and sensing specialisations.
Book contents