Recent Trends in Sliding Mode Control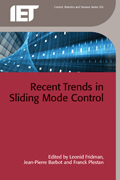 Book title: Recent Trends in Sliding Mode Control

Author: Leonid Fridman, Jean-Pierre Barbot, Franck Plestan (eds)

Year: 2016

Format: Hardback

Product Code: PBCE1020

ISBN: 978-1-78561-076-9

Pagination: 440pp
£81.90 Member price
£126.00

Full price
Description
Recent Trends in Sliding Mode Control describes recent advances in the theory, properties, methods and applications of SMC, including a discussion about the advantages and disadvantages of different SMC algorithms; a new Lyapunov based approach for design of such controllers; gain adaptation for arbitrary order sliding mode control; new methods for design of arbitrary order sliding mode surfaces; and new applications in air breathing hypersonic vehicles, electro-pneumatic actuators, wind-energy conversion systems, and control of electrical machines with saturation.

With contributions from an international team of experts in the area this is essential reading for researchers and students in control theory and its applications.
Topics covered include:
the design of higher-order sliding-mode controllers
the development of a set of tools for establishing different dynamic properties of systems with discontinuous right-hand sides
time discretization
applications including variable-speed wind turbines, fuel cell coupled to a power converter, rugged DC series motors and rectifiers with unity power factor, electropneumatic actuators
an event-triggered sliding-mode scheme for networked control systems subject to packet loss, jitter and delayed transmissions
About the Editors
Leonid Fridman received a Ph.D. degree in applied mathematics from the Institute of Control Science, Moscow, Russia, in 1988, and a Dr. Sc. degree in control science from Moscow State University of Mathematics and Electronics, Moscow, Russia, in 1998. Since 2002, he joined the Department of Control Engineering and Robotics, Division of Electrical Engineering of Engineering Faculty at National Autonomous University of Mexico (UNAM), Mexico. His research interests are Variable Structure Systems.

Jean-Pierre Barbot is Professor at ENSEA Cergy-Pontoise, France. He is currently director of the Quartz Laboratory EA 7393 and member of EPI Non-A at INRIA. After his graduation from the Ecole Normale Supérieure of Cachan, he received the Ph. D. degree in automatic control from the University of Paris XI (France) in 1989 and the HDR in 1997. His main research activities deal with sliding mode control and systems.

Franck Plestan received the Ph.D. in Automatic Control from the Ecole Centrale de Nantes, France, in 1995. From September 1996 to August 2000, he was with Louis Pasteur University, Strasbourg, France. In September 2000, he joined the Ecole Centrale de Nantes, Nantes, France where he is currently Professor. His research interests include robust nonlinear control and observer design.
Book readership

Recent Trends in Sliding Mode Control an essential reference for researchers and advanced students in academia and industry working on control theory and its applications.
Book contents