Organic Sensors: Materials and Applications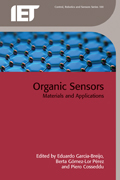 Book title: Organic Sensors: Materials and Applications

Author: Eduardo Garcia-Breijo, Berta Gómez-Lor Pérez and Piero Cosseddu (eds.)

Year: 2016

Format: Hardback

Product Code: PBCE1000

ISBN: 978-1-84919-985-8

Pagination: 312pp
£71.50 Member price
£110.00

Full price
Description
This book features contributions from an international panel of leading researchers in organic electronics and their applications as sensors. It reviews the state-of-the-art in the use of organic electronic materials such as organic semiconductors, conducting polymers, chemically functionalised materials, and composite materials as physical, chemical and biomedical sensors in a variety of application settings. This book is cross-disciplinary in its approach and combines electronic engineering, materials science, chemistry, physics and healthcare technology.
Topics covered include;
Conducting polymers in sensor applications
Electrolyte gated organic transistors for bio-sensing applications
DNA biosensors
Organic transistor-based mechanical sensors for artificial skin applications
Smart fabric sensor architectures and technologies
Organic gas sensors and electronic noses

About the Editors

Dr. Eduardo Garcia-Breijo is a professor and a member of the Institute of Molecular Recognition and Technological Development (IDM), University Polytechnic of Valencia, Spain. His main areas of interest are the development of multisensors, electronic tongues and noses, design of electronic systems and neural networks.
Dr. Berta Gómez-Lor Pérez heads the Organic Electronics group at the Materials Science Institute of Madrid (ICMM), Spain. Her main research interest focusses on the synthesis and assembly of functional nanostructures for implementation in organic-based flexible devices.
Dr. Piero Cosseddu is Associate Professor at the department of electrical and electronic engineering (DIEE), University of Cagliari, Italy. His research activity focusses on the design, fabrication and characterisation of organic semiconductor based devices on flexible plastic substrates, such as organic field effect transistor, organic electrochemical transistor, non-volatile memory elements, and the development of innovative applications from wearable electronics and artificial skin to sensing applications.
Book readership
This book is essential reading for researchers working in sensors and organic electronics (cross-disciplinary: electronic engineering, materials science, chemistry, physics and healthcare technology), and advanced and graduate students as well as lecturers in these areas.
Book contents