Motion-Induced Eddy Current Techniques for Non-Destructive Testing and Evaluation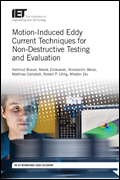 Book title: Motion-Induced Eddy Current Techniques for Non-Destructive Testing and Evaluation

Author: Hartmut Brauer, Marek Ziolkowski, Robert P. Uhlig, Mladen Zec, Konstantin Weise and Matthias Carlstedt

Year: 2018

Format: Hardback

Product Code: PBCE1060

ISBN: 978-1-78561-215-2

Pagination: c.400pp
£78.00 Member price
£120.00

Full price
Description
Non-destructive testing (NDT) analysis techniques are used in science, technology and medicine to evaluate the properties of a material, component or system, without causing damage or altering the article being inspected. It is a highly valuable technique that can save money and time in product evaluation, troubleshooting, and research. Well known and widely used in industrial applications since the 60s, the NDT market is developing and growing fast. This book focuses on electromagnetic NDT methods and more specifically on the motion induced eddy current testing and evaluation (MIECTE) techniques used for conductive materials via electromagnetic methods, focusing on the Lorentz force eddy current testing (LET) method which was introduced recently. The authors present the modelling and simulation of LET systems as well as the optimal design of the measurement setups. They also show the wide variety of applications of the LET method including defect identification and sigmometry to estimate electrical conductivity of the tested material.
About the Authors
Hartmut Brauer, Advanced Electromagnetics Group, Technische Universität Ilmenau,
Germany
Marek Ziolkowski, Advanced Electromagnetics Group, Technische Universität Ilmenau,
Germany & Applied Informatics Group, West Pomeranian University of Technology, Szczecin,
Poland
Konstantin Weise, Advanced Electromagnetics Group, Technische Universität Ilmenau,
Germany
Matthias Carlstedt, Kompass GmbH, Ilmenau, Germany
Robert P. Uhlig, Robert Bosch GmbH, Reutlingen, Germany
Mladen Zec, Buehler Motor GmbH, Nuremberg, Germany
About the IET International Book Series on Sensors
The use of sensors has increased dramatically in all industries. They are fundamental in a wide range of applications from communication to monitoring, measurement, remote operation, process control, precision and safety, and robotics and automation. These developments have brought new challenges such as demands for robustness and reliability in networks, security in the communications interface, and close management of energy consumption. This book series covers the research and applications of sensor technologies in the fields of ICTs, security, tracking,
detection, monitoring, measurement, control and automation, robotics, machine learning, smart technologies, production and manufacturing, photonics, environment, energy, and transport.
Book readership
Ideal material to use when training sensing and material engineers, professionals, developers and scientists on Non Destructive Testing (NDT), evaluation (NDE) and applications.
This book is also for manufacturers of conductive (non-magnetic) materials and devices which have to proof defect-free products and inspection departments in companies manufacturing metallic rolling products such as sheet steel, rods and tubular goods.
Students, researchers and lecturers at universities and research institutes with NDT courses in electrical engineering, sensing, robotics, mechatronics, mechanical engineering, fluid dynamics, material science and composite materials will also find this book useful.
Book contents