Trusted Platform Modules: Why, when and how to use them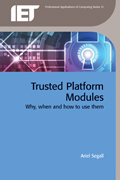 Book title: Trusted Platform Modules: Why, when and how to use them

Author: Ariel Segall

Year: 2016

Format: Hardback

Product Code: PBPC0130

ISBN: 978-1-84919-893-6

Pagination: 384pp
£51.35 Member price
£79.00

Full price
Description
Trusted Platform Modules (TPMs) are small, inexpensive chips which provide a limited set of security functions. They are most commonly found as a motherboard component in laptops and desktops aimed at the corporate or government markets, but can also be found in many consumer-grade machines and servers or purchased as independent components.
This book describes the primary uses for TPMs and practical considerations such as: when TPMs can and should be used, when they shouldn't be used, what advantages they provide and how to benefit from them.
Topics covered include;
When to use a TPM
TPM concepts and functionality
Programming introduction
Provisioning: getting the TPM ready to use
First steps: TPM keys, machine authentication, data protection, attestation
Other TPM features
Software and specifications
Troubleshooting
Appendices contain basic cryptographic concepts, command equivalence, requirements charts and complete code samples

About the Author
Ariel Segall has been working professionally with trusted computing technologies since graduating from MIT in 2004. She spent more than a decade at the MITRE corporation researching and implementing a wide variety of secure system designs built on TPMs and related technologies, aimed at both government and enterprise use cases. Ariel was an active contributor in the Trusted Computing Group and primary specification author for their Virtualization Working Group for several years, and has taught multiple courses on TPMs and related topics. She is currently working as a security architect and trusted computing expert at Akamai Technologies.
Book readership
Trusted Platform Modules: Why, when and how to use them is essential reading for researchers in academia working in the trusted computing area, students studying trusted computing as part of security classes or theses as well as professionals working in the industry and the government who've been tasked with using this technology to meet government or financial requirements.
Book contents