High Frequency MOSFET Gate Drivers: Technologies and Applications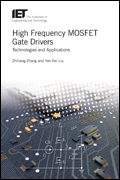 Book title: High Frequency MOSFET Gate Drivers: Technologies and Applications

Author: Zhi-Liang Zhang and Yan-Fei Liu

Year: 2017

Format: Hardback

Product Code: PBCS0330

ISBN: 978-1-78561-365-4

Pagination: 296pp
£68.25 Member price
£105.00

Full price
Description
This book describes high frequency power MOSFET gate driver technologies, including gate drivers for GaN HEMTs, which have great potential in the next generation of switching power converters. Gate drivers serve as a critical role between control and power devices.
In recent years, there has been a trend to increase the switching frequency beyond multi- MHz in switching power converters to reduce the passive components and significantly improve power density. However, this results in high switching loss and gate driver loss in power MOSFETs. The novel approach in this book is the proposed Current Source Gate Driver (CSD) including different topologies, control and applications. The CSD can reduce the switching transition time and switching loss significantly, and recover high frequency gate driver loss compared to conventional voltage gate drivers. The basic idea can also be extended to other power devices to improve high frequency switching performance such as SiC MOSFET and IGBT. Topics covered in the book include the state-of-the-art of power MOSFET drive techniques, the switching loss model, current source gate drivers (CSDs), resonant gate drivers, adaptive gate drivers and GaN HEMT gate drivers.

About the Authors
ZhiLiang Zhang is a Professor at the Aero-Power Sci-Tech Center of Nanjing University of Aeronautics and Astronautics, China. His research interests include high-frequency power converters and renewable energy power conversion systems, and he has published over 100 papers in these areas. His contribution to high frequency power converters has been successfully applied to the products of Industry Corporations. He is an IEEE Senior Member and served as secretary of the PELS Technical Committee on Power and Control Core Technologies from 2013-2016.

Yan-Fei Liu is a Professor at the Department of Electrical and Computer Engineering, Queen's University, Canada. Dr Liu and his research team have been conducting advanced research in the area of power electronics, and have published over 200 papers in journals and conferences. Dr. Liu has been an Editor of IEEE Journal of Emerging and Selected Topics of Power Electronics since 2013 and an associate Editor of IEEE Transactions on Power Electronics since 2001. He was Co-General Chair of ECCE 2015 held in Montreal, Canada, in 2015, the chair of the PELS Technical Committee on Control and Modeling Core Technologies from 2013-2016 and is currently VP Technical Operations of the PELS Administrative Committee.
Book readership
The book is essential reading for design engineers, researchers and advanced students working in switching power supplies and in power electronics generally.
Book contents