IP Core Protection and Hardware-Assisted Security for Consumer Electronics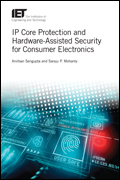 Author: Anirban Sengupta and Saraju Mohanty

Year: 2018

Format: Hardback

Product Code: PBCS0600

ISBN: 978-1-78561-799-7

Pagination: c.552pp
£87.75 Member price
£135.00

Full price
Description
IP Core Protection and Hardware-Assisted Security for Consumer Electronics presents established and novel solutions for security and protection problems related to IP cores (especially those based on DSP/multimedia applications) in consumer electronics. The topic is important to researchers in various areas of specialisation, encompassing overlapping topics such as EDA-CAD, hardware design security, VLSI design, IP core protection, optimisation using evolutionary computing, system-on-chip design and application specific processor/hardware accelerator design.
The book begins by introducing the concepts of security, privacy and IP protection in information systems. Later chapters focus specifically on hardware-assisted IP security in consumer electronics, with coverage including essential topics such as hardware Trojan security, robust watermarking, fingerprinting, structural and functional obfuscation, encryption, IoT security, forensic engineering based protection, JPEG obfuscation design, hardware assisted media protection, PUF and side-channel attack resistance.
About the Authors
Anirban Sengupta holds a tenured faculty position in the Computer Science and Engineering discipline at Indian Institute of Technology (I.I.T) Indore, where he directs the research lab on CAD for Consumer Electronics Security and Reliability. His is an IEEE Distinguished Lecturer and holds around 14 editorial positions with international journals. He has more than 170 peer-reviewed publications.
Saraju Mohanty is a Professor at the Department of Computer Science and Engineering (CSE), University of North Texas (UNT), where he directs the Smart Electronic System Laboratory (SESL). Dr Mohanty is currently the Editor-in-Chief of the IEEE Consumer Electronics Magazine, and has edited a two-volume academic book on Nano-CMOS and Post-CMOS Electronics, published in 2015 by the IET.
Book readership
A must read for Academic researchers and industry research & development professionals with an interest in IP core protection and hardware assisted security.
Also aimed at Graduate and postdoctoral students with an interest in this field.
Book contents